2019 seems to be the year for engagements, with celebrities like Jennifer Lopez, and Melissa Benoist of Homeland saying, "I do". Let's take the plunge, shall we? As we go through our list of celebrity engagements 2019.
Gabby Barrett and Cade Foehner
Former American Idol competitors, Cade Foehner and Gabby Barret got engaged in March of 2019. Seems instead of winning in season 16 of the popular ABC show, they won each other's hearts which for us makes a beautiful love story. Both shared photos on Instagram announcing the engagement. Cade's had a message which read, "Not a day nor hour more can I wait for you to be my bride. Ladies and gentlemen, the future Mrs. Foehner!" many congratulations to them both.
Jennifer Lopez and Alex Rodriguez
After over two years of dating, Alex Rodriguez proposed to the Second Act star, and she said, yes. Both posted a photo of their hands with Jennifer's showing off the diamond ring. We can't wait to watch them walk down the aisle and say "I do's".
Chuck Wicks and Kasi Williams
Chuck shared the video of his proposal to Kasi, Jason Aldean's sister on Instagram with some sweet, sweet words and the hashtag #arewedreaming. A truly beautiful moment in the woods, between the country artist and the love of his life. We hope that their dream continues to bloom and flourish as they start their journey together.
Sammi "Sweetheart" Giancola and Christian Biscardi
A former star of Jersey Shore got engaged to her boyfriend of five years on the 5th of March, 2019. Announcing her engagement with a photo of the proposal on Instagram, she captioned it, "Yesterday was the best day of my life! I get to marry my other half, best friend and soulmate. I look forward to spending the rest of my life with you @_biscardi I love you!! #Finance #MrsBiscardi  #Stillcryingtearsofhappiness."
Danielle Staub and Oliver Maier
Talk about a whirlwind romance, it was confirmed on the 28th of February, that the Real Housewives of New Jersey star got engaged to Duke of Provence, Oliver Maier, after six weeks of dating and a week after finalizing her divorce from Marty Caffrey.
Their wedding was set to take place on March 4 in New York City, however, it was postponed days after the engagement.
Jude Law and Phillipa Coan
Jude Law seems to be engaged to his girlfriend of four years, psychologist, Phillipa Coan, after she was seen sporting a diamond ring on the 27th of February.
Brittany Snow and Tyler Stanaland
With a post on Instagram that said, "A couple of weeks ago, I said 'YES' about a million times to the man of my wildest & most beautiful dreams," Pitch Perfect star Brittany Snow, announced her engagement in February 2019, to boyfriend Tyler Stanaland.  And she went on to write, "After celebrating with friends and family, we wanted to let a few more friends (you guys) know… this happened. I'm still pinching myself and thanking my lucky stars for the truest feeling I've ever felt. Thank you @tylerstanaland for the happiest day of my life & for not proposing in this creepy empty restaurant."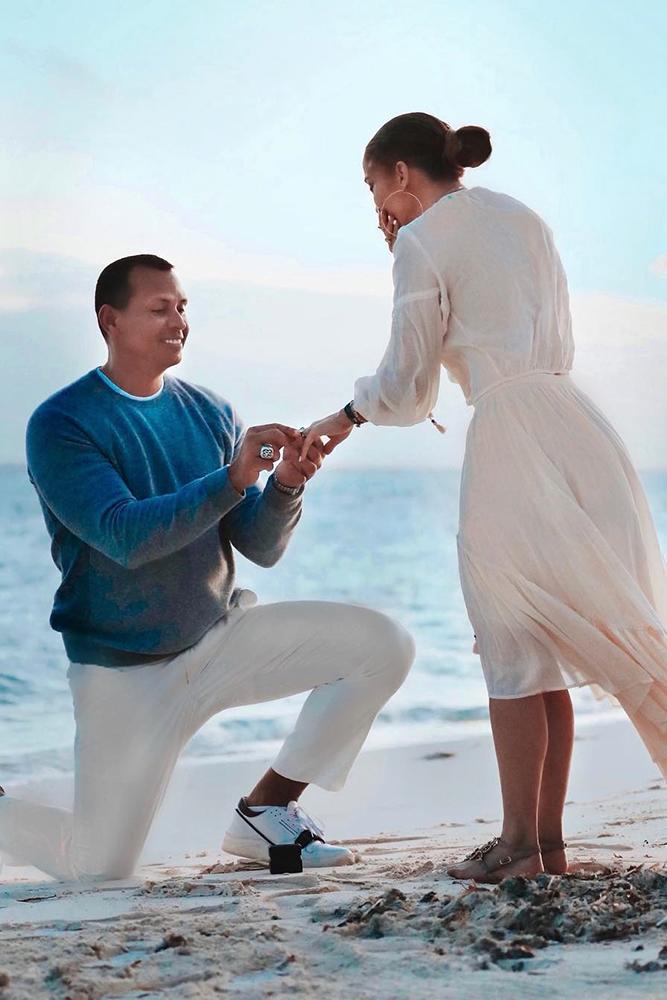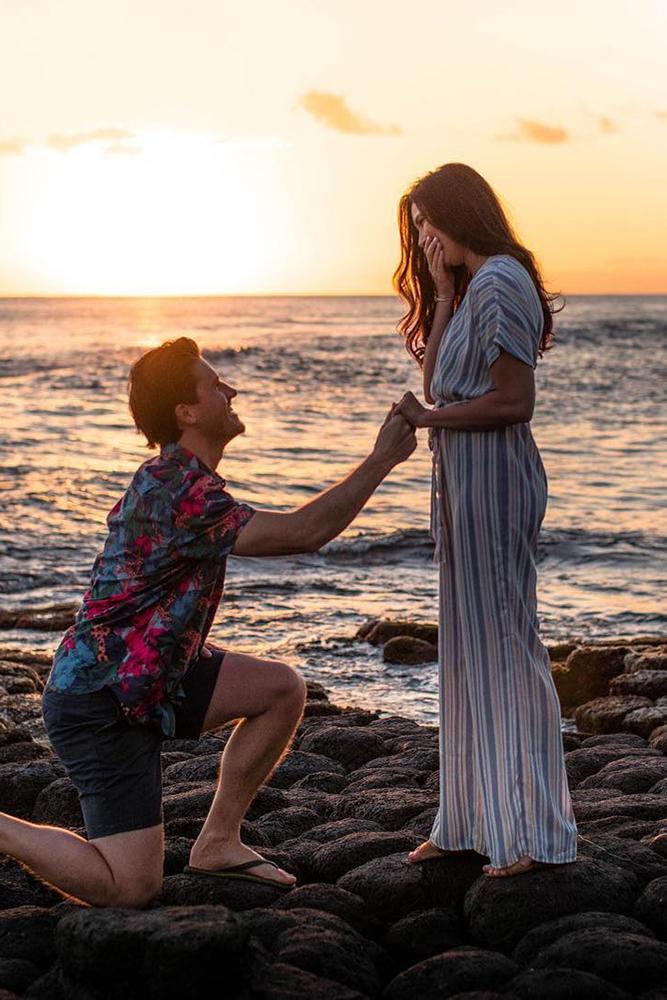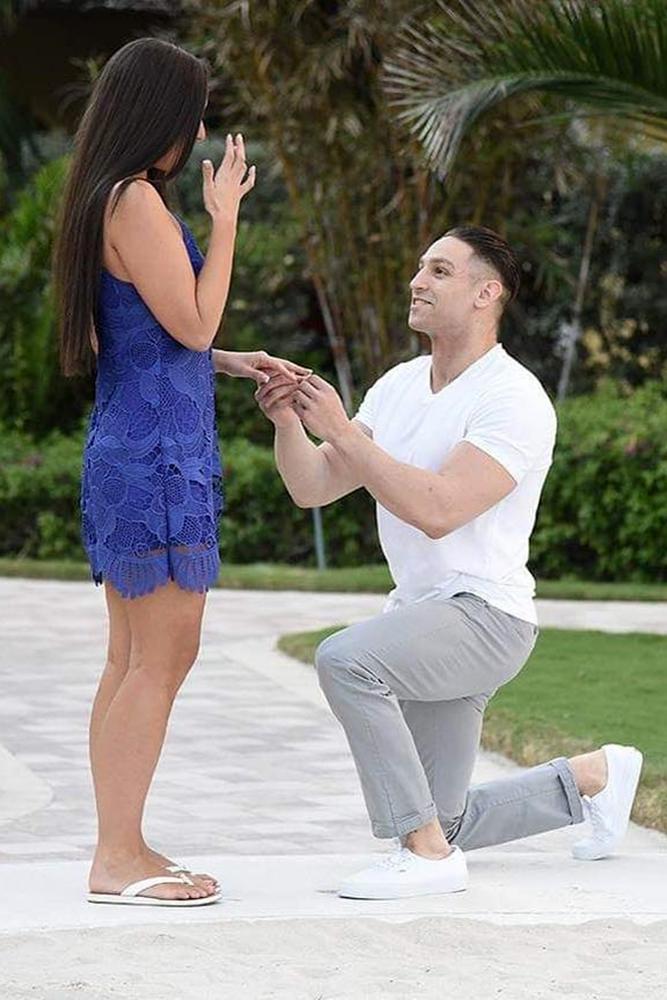 Mariah Brown and Audrey Kriss
Announcing her engagement to Audrey Kriss a month after the proposal at the Women's March in Washington, D.C in January, Sister Wives star, Mariah posted a photo of herself and her fiancé with the message, "Forever sounds just about right to me,".
Melissa Benoist and Chris Wood
She said yes to her Supergirl costar, on February 10 after two years together. Announced with a photo where she showed off her new diamond ring on Instagram, she captioned it, "yes yes yes it will always be yes".
Jennifer Lawrence and Cooke Maroney
It was confirmed on the 5th of February, that the actress and Oscar winner got engaged to her art gallery director beau, Cooke Maroney. This was days after Jennifer was spotted with a diamond ring on her left hand while out with Cooke in New York City.
JJ Lane and Kayla Hughes
Former investment banker and The Bachelor Nation star, JJ Lane announced his engagement to former NFL cheerleader Kayla Hughes on January 28 with a picture of the couple on Instagram and the message, "I can't wait to marry my best friend, my love, and the woman that has made me better since the day we met!" The romantic proposal held in Hawaii.
Chris Pratt and Katherine Schwarzenegger
Set up by Katherine's mom, Maria Shriver, this couple was first spotted together in June of 2018. Chris, The Guardians of the Galaxy star, announced their engagement on January 13 on Instagram with a pic of the two embracing and showing off Katherine's ring. Chris captioned the pic, "Sweet Katherine, so happy you said yes! I'm thrilled to be marrying you. Proud to live boldly in faith with you. Here we go!"
Tim Tebow and Demi-Leigh Nel-Peters
After almost six months of dating, former NFL quarterback, Tim Tebow, proposed to his gf, former Miss Universe, Demi-Leigh Nel-Peters and announced this with a series of photographs on Instagram and the caption, "@demileighnp Thank you for saying YES and making me the happiest man in the world" he wrote. "You're the love of my life, and I can't wait to spend the rest of my life with you."
Anthony Ramos and Jasmine Cephas
Hamilton actor, Anthony Ramos announced his engagement to Broadway costar, Jasmine Cephas with a photo of her in front of the Eiffel Tower in Paris, where she showed off the new ring. He captioned it, "I love you Jas, 12/24/2018 Thank you for saying yes to writing stories together for the rest of our lives. I'm honored and Blessed to marry you. LEGOOO."
Love is a beautiful thing and we can't just seem to get enough of lovely celebrity engagements. Stick with us as we reveal even more lists of newly engaged celebrities!