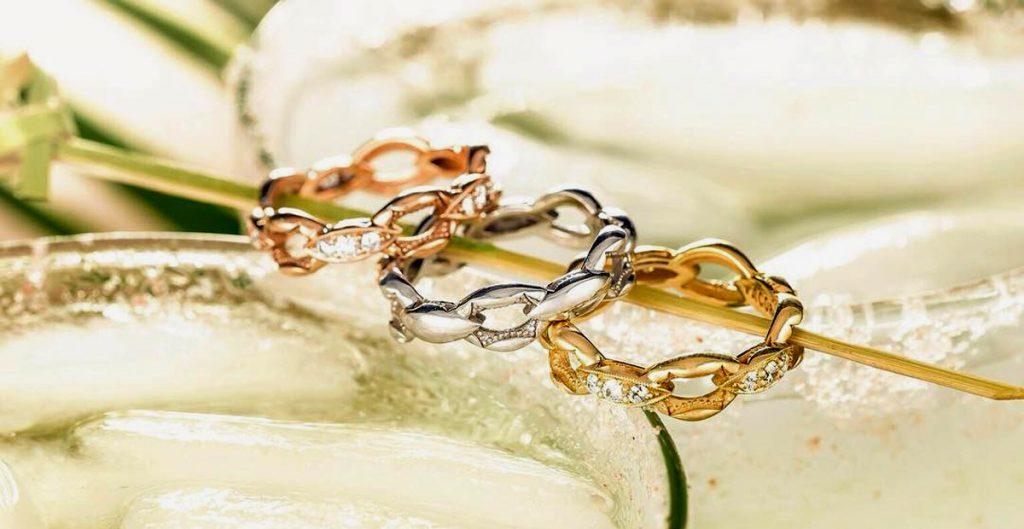 Shopping for engagement rings but not quite sure as to what is the best metal for engagement rings? We understand completely! It can be quite overwhelming as there are a lot of factors to take into consideration from the 4 C's (cut, clarity, color and carat) to the diamond or gemstone selection and then of course finding the perfect ring setting to finish it off. However, we have asked the experts for the low down on the different types of engagement rings.
Does your fiancé prefer gold engagement rings? White gold or yellow gold? Once you have decided on what cut of diamond or other gemstone you want for the ring, you then need to decide on the metal. You need to choose a metal that will meet the desires of your beloved as well as one that is durable.
Or does your fiancé prefer silver engagement rings? If you notice she tends to wear more silver jewelry than gold, you might want to opt for a silver setting for her ring.
And what about platinum engagement rings? They tend to be the most expensive but then they are the strongest of the precious metals.
The most common metals used for settings for engagement rings are silver, gold, palladium and platinum. However, to make all of these precious metals durable enough to withstand daily wear and tear, they are mixed with alloy metals to increase their durability.
There is no right or wrong choice when it comes to metals for engagement rings. It's all a matter of personal taste, that is, your fiancé's personal taste. As well as what you can realistically afford. Here is a breakdown of the 4 most common precious metal choices for engagement rings.
Gold – The Best Metal For Engagement Rings
Gold is a very popular choice for both wedding band and engagement rings. And many people think that it is the best metal for engagement rings. As it is not strong enough on its own, it is most often mixed with copper and zinc to increase its strength.
Yellow gold is the most popular choice for engagement rings and is best for those with warm skin tones. And yellow gold tends to improve with age and rarely needs to be replated.
White gold is similar to silver in color and does not transit but may need to be replated as it tends to be more brittle than yellow gold
Rose/Pink gold has a rosey hue and also suits those with warmer complexions.
24 carat gold is 99.9% pure gold and is the most expensive.
18 carat gold is 75% pure cold and the 2nd most expensive.
14 carat gold is the most common for engagement bands and is 58% pure gold and is practical and durable.
Fine silver is the most expensive and is 99.9% pure. And it is good alternative for gold as the best metal of engagement rings
Sterling silver is 92.5% pure and is the popular choice for engagement rings.
Silver only comes in one hue and has a similar hue to platinum.
Remember, that silver goes well with every complexion.
Silver is versatile and can easily go from casual wear to formal attire.
By the wayб ыilver is more affordable than platinum or gold
Silver requires more frequent cleaning than the other metals
At times, silver can be more valuable than gold, depending on the going market rate.
Platinum Engagement Rings
Platinum has a white lustrous hue.
It is heavier than the other metals but is also mixed with other alloys to increase its durability.
Platinum is the best choice for heavier diamonds or gemstones due to its high density.
Naturally hypo-allergenic metal so it causes the least amount of allergic reactions as compared to silver and gold.
90-95% purity level.
Least likely to fade or tarnish.
Platinum does not oxide.
And platinum is the rarest of the precious metals thereby making it the most expensive.
Platinum is resistant to corrosion and cracking
Cost withstanding, it is the most popular choice for engagement rings.
Platinum is the most popular choice for petite sized rings
Palladium Engagement Rings
Palladium is the least popular of the precious metals; however it has been increasing in popular over the last few years.
Palladium has a similar hue to platinum.
Like platinum, palladium is hypo-allergenic.
Tarnish resistant
More reactive to heat and chemicals, making it more difficult to resize and repair
Lightest of the 4 most common precious metals
Less expensive than platinum
95% pure
Of course, you need to take your fiancé's personal preference into consideration, as well as your budget. If you can't get an idea as to what she prefers by observing what type of jewelry that she wears regularly, you can always ask a close friend or family member. Of course, if she knows you are ring shopping, she can accompany you, which makes your job a lot easier!
As well, you should have an idea as to her ring size (4th finger left hand!) and her gemstone preference. Does she prefer diamonds or would she rather have a ruby or emerald? As well, you need to know that is her general taste when choosing a ring setting? Does she have old fashioned tastes and a vintage or antique band would suit her? Or does she have a more modern edge. Be sure to gather these facts before you start shopping for engagement rings.
No matter which of the 4 meals you choose, you need to make sure that the ring is certified and authentic. Always ask for certification and have the ring both appraised and insured. This can save you a lot of time, money and hassle in the long run. As well, find out the store's return policy before you make your final selection.
We hope our tips on how to choose the best metal for engagement rings has been helpful. Now get out there and start shopping!