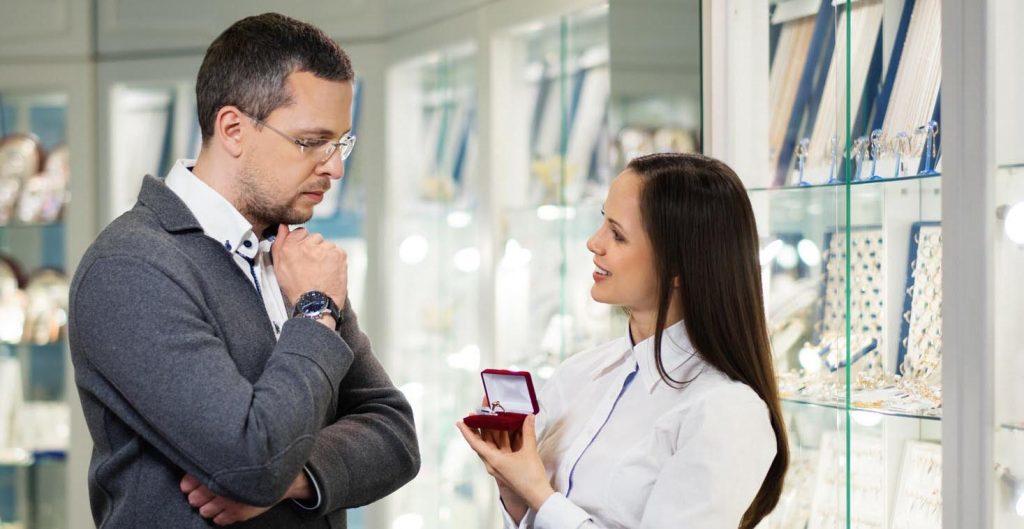 Are you considering buying an engagement ring for your girlfriend? There are so many factors to take into consideration such as her style, ring size, your budget and so forth.  Men often feel overwhelmed and if you feel confused as where to start, you are not alone!
From where to buy engagement ring to how to propose, you have so much on your plate! But don't worry; we are here to help you! We have composed a list of the top mistakes men make while searching for the perfect engagement ring. Just don't make any of these faux pas and you'll be fine!
 8 Common Mistakes To Avoid When Buying Engagement Ring
Not Knowing Your Girlfriends Preferences
You should never shop for an engagement ring without finding out your girlfriends style and taste. Does she like plain jewelry? Or maybe she has extravagant tastes or preferss vintage modern jewelry? White gold or platinum? Diamonds or other gemstones? She is going to be wearing this ring for the rest of her life as a symbol of your love and commitment, so it has to suit her tastes. If the two of you have never discussed marriage and you have no idea as to what type of ring she will like you can ask a trusted friend or family member. As well, you can observe her current style in jewelry to get an idea as to her individual tastes.
Not Finding Out Her Ring Size
While it's true that most engagement rings can be resized, you want the ring to fit as perfect as possible when you propose. And you don't want the ring to be to snug, or worse, fall off. You can ask a family member her ring size or use one of her current rings as a comparison. The most common ring size is 6 or 6.5, but if her hands are smaller or larger than average you can simply goes up or down a size. It is better to go up a size as it is easier to down size a ring than to upsize it.
As we said previously, shopping for engagement rings can be quite daunting, especially if you aren't seeking any help. You can ask a married or recently engaged friend for advice, as well as a member of her family or yours. There are plenty of people who would be willing to offer you advice. It's also a good idea to ask her sister or best friends. If your girlfriend has even the slightest clue that you may be proposing, chances are she has confided in someone closer to her as to what kind of ring she has in mind.
Not Taking The Ring Setting Or Wedding Band Into Consideration
Once you have found the perfect cut stone, you have to figure out what type of setting your girlfriend will like. Does she want a gold band? Or is she more of a platinum girl? And does she want a simple setting or something fancy? As well, you need to factor the wedding band into the equation. We're not saying that you have to purchase the wedding band at the same time, but you should choose an engagement ring that will fit with a wedding band in the future, as your bride to be will be wearing these rings for the rest of your lives as a married couple.
Committing To A Ring Too Soon
Take the time to do some research and do not rush into buying the first ring you like. Read online reviews both on and off site to make sure that you are getting honest and unbiased review for actual customers. Look at several rings from a number of jewelers before making a purchase. You don't want to make a snap decision that you will regret for the rest of your life. You can always bring along a friend for help.
Not Asking About Refund Policy
You should always inquire as to what is the return policy before you purchase an engagement ring. As well, you should read everything in detail before signing or making a purchase. Most jewelers have either a 30, 60 or 90 day return policy. Ask about sizing options and exchanges as well. You want to make sure that all of your bases are covered before you buy the ring. Another piece of advice is to make sure that the ring is certified before you buy it. If not, take have it appraised to make sure that you are getting what you are paying for.
Failing To Have The Ring Insured
One of the biggest mistakes you can make is not purchase insurance for the ring. Even though you take every precaution to ensure its safety, you cannot predict the future. You want to make sure that the ring is insured in the instance of theft, loss or damage. This will give both you and your fiancé peace of mind.
Not Sticking To Your Set Budget
You might tend to get caught up in the moment and purchase a gorgeous ring that you know she will love but is well out of your price range. But you have to make sure that you make a reasonable budget and strictly adhere to that budget. You don't want to spend the rest of your life in debt to pay off the ring. Only purchase what you know you can realistically afford.
Just make sure to avoid these mistakes when buying engagement rings and all will go in your favor! Oh, and one more thing: cover your tracks! Clear your browsing history on your computer or mobile device and don't leave any evidence such as store adverts or receipt lying around! You don't want to spoil the surprise!