Are you wondering about how to wear your engagement and wedding rings ceremony and then afterward? A lot of brides confuse as to which finger or hand they should wear their engagement during the wedding ceremony? And then what about after? During your engagement, your fiancé puts your engagement ring on the fourth finger of your right hand. But that is also where you are to wear your wedding band.
So where do you wear your engagement ring then? Do you switch it to your ring finger on your right hand? Or do you wear them together? The latter will work out perfectly if your engagement ring and wedding band are a matched set and fit together? But what if they are not part of a set? Or what if you are wearing gloves during the wedding ceremony?
No worries, we are here to advise you on how to wear an engagement ring. In any cases: before, during and after your wedding ceremony and reception.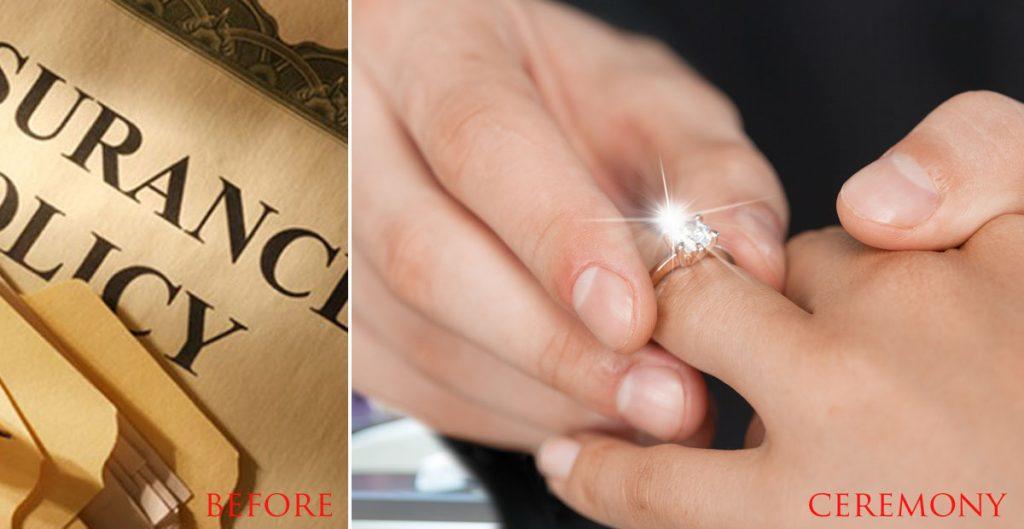 How To Wear Your Engagement Ring & Wedding Rings Before The Ceremony
A Certified jeweler should estimate your rings about one to two weeks prior to your wedding date.
He should examine the stone itself, the accents, the setting, band and so forth for authenticity. Also, he should check any loose stones or signs of damage. This way there is still time to take care of any repairs before the ceremony. Don't wait until your wedding day to realize that one of your accent stones will loose or some other issue. Ensure that your ring is in perfect condition for your wedding!
You should also have rings insurance if you haven't done so prior. If you are traveling during your honeymoon, we recommend you have your ring insurance in case of any unforeseen incidents during the honeymoon.
If you have a bridal ring set in which your wedding band is fit or intertwine with your engagement ring, this is also the time to ensure that they fit properly. If they solder together, we recommend doing prior to the wedding ceremony. Your fiancé will then place both rings on your finger during your wedding.
A day or two before your wedding, you should clean your engagement ring so it sparkles and shines for your wedding ceremony as well as your wedding photos. You should follow cleaning instructions as to your particular stone and ring metal. At this time, might have to clean it professionally so it looks just as stunning on your wedding day as it did when you first saw the ring when your fiancé popped the question!
How To Wear Your Rings During The Wedding Ring Ceremony
As you wear your wedding band on the fourth finger of your left hand, this could be an issue for those brides who also wish to wear their engagement ring during the ceremony. However, there are ways to work around this.
A lot of brides move their wedding ring on the right hand before the ceremony and then move it back.
Or they leave it on their left hand and simply have their fiancé place the wedding ring on top of the engagement ring. Of course, if you have a soldered bridal ring set, this solves the issue for you, no questions!
If you are wearing gloves during your ceremony, as may brides do, you can actually order a special ring glove which is design with a slit for the ring. You should never wear your ring on top of the glove. You can loose it when will removing the glove. Or the glove itself might cause the ring to become too tight on your finger. The danger of wearing the ring under the glove is that the ring can get easily snagged on the glove. And it can damage both the ring and the glove.
You could also have someone hold your engagement ring during the ceremony such as your bridesmaid, the maid of honor or a trusted family member. That way you could discreetly put it back on after the ceremony before the post-wedding photography session. Just make sure that the ring is in a safe place, perhaps in the ring box or a special pouch. And of course, make sure that the person you ask to hold the ring has a safe place to keep it, such as in their pocket or in a purse. You don't' want to risk losing your engagement ring on your wedding day!
How To Wear Your Rings After The Ceremony
It is up to you how you wish to wear your rings after the ceremony. Your options are as follows:
Both rings on the same finger, engagement ring on top (this is the traditional way, as this way your wedding band will be closest to your heart).
Both rings on the same finger, wedding band on top
Wedding ring on left ring finger, engagement ring on right ring finger.
Both on the same hand, wedding band on 4th finger, engagement ring on middle or pinky finger.
We hope this "cheat sheet" on how to wear your engagement ring on your wedding day has been helpful. However, you should choose to wear your rings, you are going to be the most beautiful bride ever!